The original site to connect with the Red Plague is at http://santarchy.com/ as hosted by Scott Beale and Laughing Squid – the webhost that supports subculture and the arts directly – as should you by supporting LS!
Note that the founder / creator of the Santa Rampage really believes you should go do something else today, as best said in the article above.

Other ideas include Krampuslauf , as recently organized in part by Rev Al Ridenhour and Al Guerrero in LA. In Oakland you could find Kimric Smythe and
Jon Sarriugarte at Art Murmur and elsewhere as seen in the image.
John Law another key creator on all things good for subculture and exploring the underground and exploring the new and your personal social boundaries, expresses in this article "What the F*** should we do with Santa?"
Read the Tales of San Francisco Cacophony Society Book to get with the program, know your facts and the history, or get it for a friend for the holidays, or their teenager kids, your local library, as the best inspirational gift possible. Order and Buy the book local at your bookstore while at it!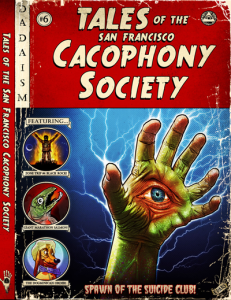 For those stay at home types watch the movie in comfort at home – while plotting the new better things with pals, friends, and friends you have not met yet.
Watch the movie "You Better Watch Out" at home of how the O.G. Santas did it, now go out and create your own event and concept.
http://santarchy.com/youd-better-watch-out-portland-santacon-96/
The 40 minute documentary video by Scott Beale chronicling the Portland Santacon 1996.

Produced, Directed & Edited by
Scott Beale
Written by
Scott Beale & Stuart Mangrum
Narrated by
Christopher Nissley

A bit on the history of Santarchy from elsewhere:
SantaCon: From Anarchist Mob to Bro Holiday, A Case Study in Countercultural Erasure